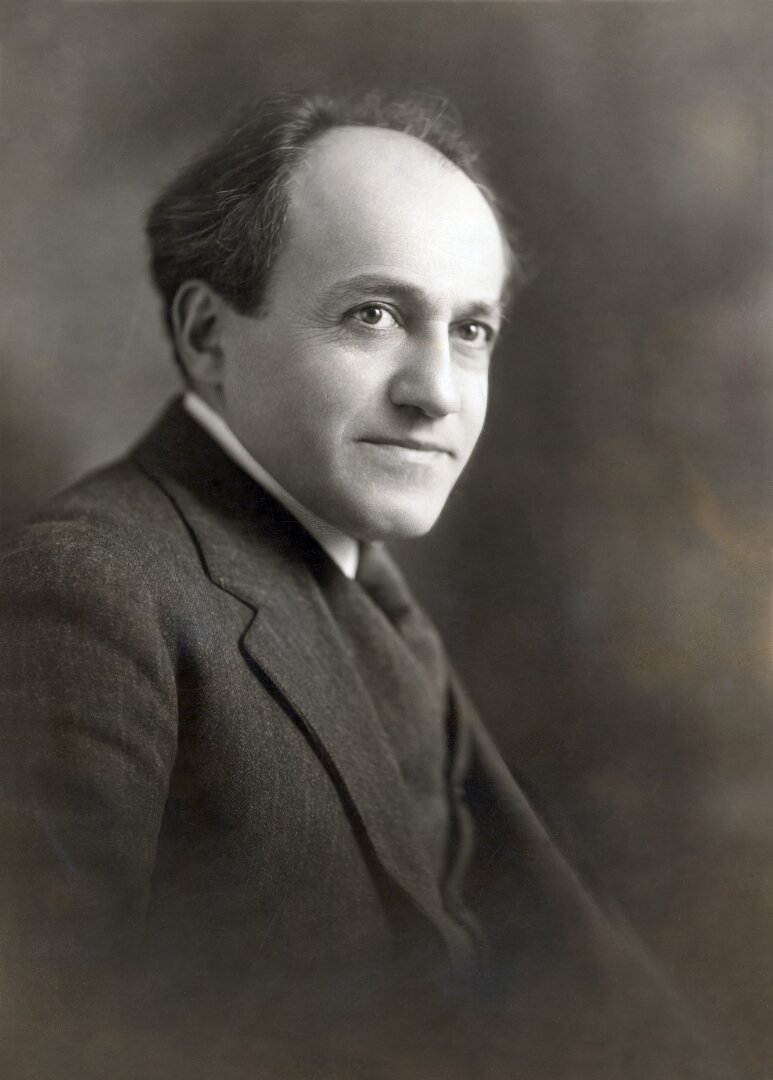 Ernest Bloch was born into an assimilated Jewish family in Geneva in 1880. Around the age of twenty-five he became interested in all things Jewish and he translated them into his own language – music. "I am interested in the Jewish soul" he wrote to his friend Edmund Fleg (Flegenheimer): cantor, poet, philosopher and  playwright. "I want to translate all that into music". He succeeded.

But Bloch is more than the 'Jewish soul alone'. Before the war he was one of the most performed and appreciated composers. People even called him the fourth great 'B' after Bach, Beethoven and Brahms. The name Bloch stands for concertos, symphonies, string quartets, piano quintets, violin sonatas, suites for solo strings and songs. And an opera.


Bloch was only 24 years old when he and Fleg came up with the idea to create musical theatre. It was Fleg who thought of 'Macbeth'. Bloch had his doubts, because he actually wanted to compose something cheerful, but soon he started with the first sketches. It took him five years to complete the opera, but when it was finally done, the boss of the Opéra Comique, the famous Albert Carré, was immediately interested.

We can hardly imagine it now, but at that time Verdi's Macbeth was almost unknown. It had not yet been performed at the Opéra or the Opéra Comique. The sole performance in Paris had been in 1865 at the Théâtre Lyrique where it was received with very moderate enthusiasm.
Whether Carré's interest was sincere or whether it was because his Prima Donna, at the time one of the greatest dramatic sopranos, Lucienne Bréval (a compatriot and good friend of Bloch) was so keen to sing it? We will probably never know, but on 30 November 1910 that was it.

The leading parts were played by the greatest singers of the time, with besides Brevál the Dutch baritone Henri Alber
Bloch's opera was performed 13 times in 1910. Reactions and opinions were divided: they ranged from almost ecstatic (Romain Roland was among the greatest admirers) to scathing. In January 1911, there were 15 more performances and that was it. It was not until 1938 that the opera was performed again: curiously, in Naples. Remember: this was in Mussolini's fascist Italy! There were only two performances: the third was cancelled by the orders of Mussolini himself.

After the war, there was a brief revival; in 1953, 'Macbeth' was staged in Rome in the Italian translation by Mary Tibaldi Chiesa. The cast was a real delight: the leading roles were sung by Nicola Rossi Lemeni and Gianna Pederzini; Gianandrea Gavazzeni conducted.
Performances in Trieste in 1957 and in Brussels in 1958 (sponsored by Queen Elisabeth, who loved the opera) followed; and after Bloch's death, Macbeth" was also presented at La Scala.

In April 1960, Geneva gathered the best forces in the opera world to pay tribute to the opera. Heinz Rehfuss and Lucienne Devallier sang the leading roles and the direction was in the hands of Ernest Ansermet. If you ask me: it doesn't get much more beautiful than this. At least orchestral.

Highlights from the Geneva performance:
In 1968, Rossi Lemeni was allowed to repeat his phenomenal Macbeth interpretation, also in Geneva. His Lady was none other than Inge Borkh, Pierre Colombo conducted. Thanks to YouTube, the whole performance can now be heard in your own home: please do so

I do not know why, but the opera is nowhere as popular as it is in the United States. In 1973, the work was performed in English translation at the Juilliard School of Music under Adler's direction. Frederic Burchinal (not an unfamiliar name to Dutch opera fans) sang the lead role.

Long Beach Opera presented the opera in 2013 starring the Panamanian "barihunk" Nmon Ford and the production was taken over by the Chicago Opera Theater in 2014. The Manhattan School of Music was the first to present the opera in French in December 2014.

Trailer from Chicago:

And now for the opera itself. The story is very Shakespearean, more so than Verdi's. It has three instead of five acts, but otherwise there is not too much of a difference.
The music is often described as a mix of Wagner, Mussorgsky and Debussy, but for me, it is mainly Debussy, lightly peppered with a touch of Pizzetti and Bartók (yes, Bartók!). And I also hear reminiscences of Verdi, but of his "Otello". But Bloch was also ahead of his time, because the great aria of Lady is very 'Hitchcockians', especially if you listen to it in the performance of Inge Borkh. Her Lady is terrifying!

Borkh as Lady Macbeth, unparalleled!



Recordings:


As far as I know, there are only two commercial editions on the market. I have them both and both have their merit. The concert performance from Montpellier, recorded live on 26 July 1997 (Actes Sud OMA34100) is conducted by Friedemann Layer who makes quite a bombastic mess of it, but Jean-Philippe Lafont is without doubt a brilliant Macbeth. The role calls for a "French sounding" baritone with an easy and supple pitch, but also with great depth and resonance. The Golaud type. Lafont more than satisfies this requirement.
Merkella Hatziano is to my taste a somewhat too light Lady, but her sleepwalking scene is scorching. The textbook contains the complete libretto, but only in French.



The other recording (Capriccio 10889/90) is from Dortmund. It was the very first time the opera was performed in Germany. The live recording from 2001 is far from perfect, but it is atmospheric. And the Lady, sung here by Sonja Borowski-Tudor, is absolutely impressive. There is no libretto, but the synopsis in three languages is very useful if French is not your strongest language!

And speaking of the unknown Bloch, don't forget his symphonic poem 'Hiver-Printemps; ! Together with the beautiful song cycle "Poèmes d'Automne" (composed for the texts of Béatrix Rodès, at the time Bloch's beloved), they form as it were a whole, a kind of 'Seasons', with only summer missing. How appropriate!

Hiver-Printemps: