The true story of the young soldier Woyzeck, who was found guilty of murdering his girlfriend in 1824 and sentenced to death, inspired the young Austrian Georg Büchner to write his play. The work remained unfinished, Büchner died of typhus in 1837 at the age of 24, and Woyzeck was not staged until 1913. Alban Berg saw the play a year later in Vienna and decided to turn it into an opera. The premiere on 4 December 1925 in Berlin was an overwhelming success.
"Fragmentary, hallucinatory and extremely pessimistic'. This is how the play was described and this is an exact description of the opera also. This work – perhaps the most moving opera of the last century – always comes with an unprecedented inaccessability The music is highly expressive and cannot be defined by a single definition: Berg used both dodecaphony and the sweetest violin sounds, and alternated the sprechgesang with melancholic 'arias'.
Masterpiece or no (for me an absolute masterpiece) everything depends on the performance and there are many.
A selection:

DVD'S:

Hamburg 1970
Under the direction of Rolf Liebermann, the Hamburg State Opera grew into one of the best and most talked-about opera houses in the world. Liebermann ensured a good, thorough and diverse repertoire with extra attention to contemporary works.

Fortunately for those of us who did not experience those years (consciously), Liebermann also thought about the future and commissioned the director Joachim Hess to record about thirteen of his productions for TV. Most of the recordings were made in a studio, but with Wozzeck they went to a castle in southern Germany and also its environs.

The now almost completel
y forgotten baritone Toni Blankenheim was one of the pillars of the Hamburg opera. He sang numerous roles, but only became truly famous as Schigolch (Lulu), in the production with Teresa Stratas.

His very charismatic appearance, his enormous acting talent and his agile, warm baritone made him more than suitable for singing roles of "complex characters". A character like Wozzeck. Better than anyone, Blankenheim is pretty much the personification of the "simple soul"; his despair is not played and you can really see the incomprehension on his face.

Sena Jurinac is a beautiful, slightly timid, but very sensual and erotically charged Marie.

Bruno Maderna has never been a champion of conducting other people's works, but he certainly has a great affinity with Berg's idiom.

The production is very realistic and the tension is palpable. It is as if you are watching an unadulterated thriller.

Liebermann is now seen as the father of Regietheater (directing theatre), but his vision was quite different from today's conceptualism and its search for (and often crossing) the boundaries of the permissible and the ridiculous. Anyway: see for yourself. That recording is an absolute must (Arthaus Music 101277)
Vienna 1987
This production was my first 'Wozzeck' ever. It made me sick; the opera evoked so many emotions and feelings in me. I was most touched by Hildegard Behrens' performance of Marie. I still find her performance extremely impressive, but now that I know the opera better, I also have some reservations. Now and then I find her a little too much. Too exaggerated in her acting and also in her singing. As if she is challenging the outer limits of her voice. In her creation, she reminds me – don't take it too literally! – of the Italian actress Anna Magnani, which is actually a great compliment.

Franz Grundhebber portrays an embittered Wozzeck, but one not devoid of pathos.

Heinz Zednik is an unequalled captain and the young Philip Langridge a brilliant Andres.

That Abbado has an affinity with Berg's music is obvious. He conducts fiercely and compellingly; the tension is palpable from the very first note. And yet the lyricism is never far away.

Can you still remember that magical moment when the curtain opens? You can experience it again here. And then a world that you know from the libretto is revealed: we are in the captain's room, with, behind the window, a view of what could become a crime scene. And then the lighting! It is so beautiful!

This fascinating production (directed by Adolf Dresen) should be mandatory for any director's course. If only to show all those aspiring directors that traditional does not automatically mean boring or museum-like (incidentally: there is nothing against that either).

And how young Abbado is here! (Arthaus Musik 109156)

Trailer of the production:
Moscow 2010
I have to be brief about this. After more than four minutes of staring at a kind of doll's house with lots of boxes, in which all kinds of people playing house and looking bored (televisions were on) – all this accompanied by an orchestra tuning its instruments – I had had enough. But I did watch it for a while because I was quite curious. Unfortunately, I did not get very far.

If you want an evening of exciting theatre with lots of video images and even more music, then this is the DVD for you. However, you do have to forget about Wozzeck, because this production has nothing – absolutely nothing – to do with either Alban Berg's opera or Büchner's play. Teodor Currentzis, the darling of Russian audiences, who is famous (and notorious) for his strange tempi, here really lives up to his reputation (BAC068).
CD'S

Berlin Classics 1973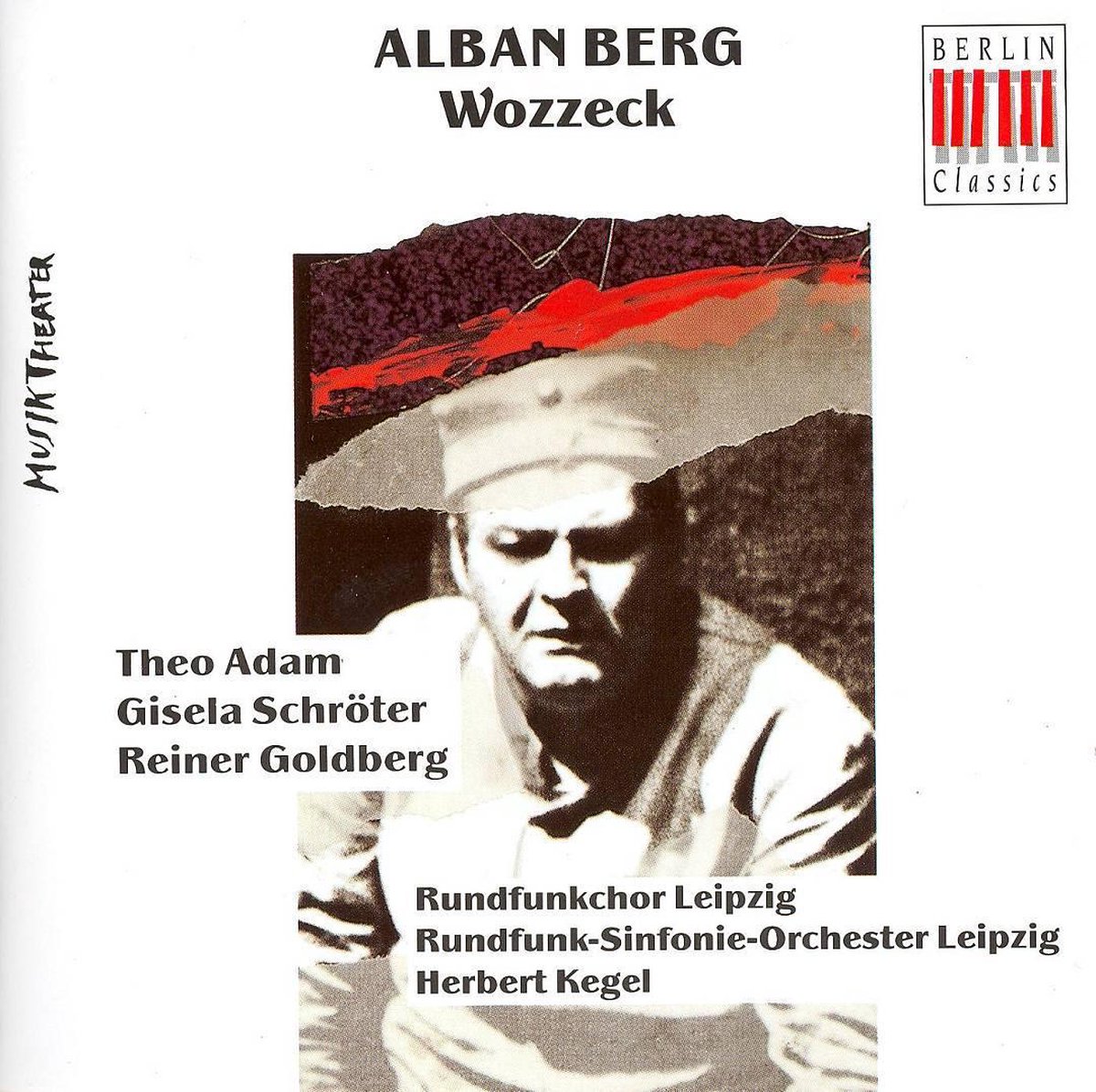 This recording, reissued on Berlin Classisc, was recorded live in 1973 during a concert performance in Leipzig (then GDR).

What strikes one immediately is the clarity of sound and the fantastic diction of the singers. Reiner Goldberg (the drum major) has a somewhat "embarrassing" height, which underlines his sillyness as a failed macho.

The truly incomparable Horst Hiestermann (Hauptmann) confirms his reputation as one of the best character actors in history and Helmuth Klotz is delightful as the totally messed-up doctor.

Gisela Schröter is moving as Marie and Theo Adam is a thoroughly tragic Wozzeck, who cannot understand the 'why'.

The orchestra under the sublime direction of Kegel sounds alternately screeching and loving, exactly as this music was meant to be (0184422BC).

Decca 1981

Eberhard Wächter is one of the best Wozzecks I know. His anti-hero sounds resigned and desperate, but also fierce and terrifying. And although his voice sometimes sounds a little unbalanced, his portrayal is solid.

Anja Silja is a wonderfully light, childlike – naive Marie. Very lyrical and clumsy, someone to feel sorry for. She is not a mature woman, more a child who is full of life and looking for challenges.

Heinz Zednik (Captain) sounds even better here than in the Hamburg recording. He does not sing his role as terribly caricatured as many of his colleagues, proving once again that a good character tenor is perhaps one of the most difficult voices to find.

There is nothing but praise for the Vienna Philharmonic; under the inspired leadership of Christoph von Dohnányi, they show that they really know and master this score (4173482).


Warner 1998
Under Ingo Metzmacher, the opera sounds more modern than it really is. Not that it is bad, but it makes it a bit more unapproachable. He does keep the momentum going, which is very beneficial to the tension. And in the scenes with Marie, he keeps the orchestra surprisingly lyrical.

Bo Skovhus should perhaps have waited a little longer to sing his first Wozzeck. He sounds a tad too young and too healthy; fortunately, he is able to camouflage these "flaws" with his excellent voice-acting.

Angela Denoke is, in my opinion, the star, although she is more a cool blonde than an alley cat. Think of Marlene Dietrich in Der Blaue Engel.

I do not listen to this recording very often, for this I blame Chris Merritt's captain. The amount of ugly notes this man can produce almost borders on the impossible. But this is actually the only real flaw in this splendid performance, recorded live in Hamburg 1998 (6406622).

Naxos 2013


Naxos' 2013 performance recorded live in Houston is also more than excellent.

Roman Trekel's dry baritone and his nervous singing make him an almost ideal Wozzeck. He relies mainly on his very impressive voice-acting and his intelligibility and his handling of the text are more than sublime. Hats off!

Anne Schwanewilms is an excellent Marie. Perhaps a tad too neat and a little understated, but she is able to compensate for this with her velvety singing.

With the concert performance of his favourite opera, Austrian conductor Hans Graf bid a spectacular farewell to his orchestra. The recording is highly recommended for the orchestral part alone. (8660390-91)